Whether it's for a honeymoon, an anniversary, or if you simply want to treat your loved one to something special, a romantic trip away is the perfect way to spend some quality time together and to really show that you care.
For something a little different, consider heading out on one of these three romantic European road trips, expertly picked by car rental providers, Autoclick. From stunning stretches of azure oceans to age-old heritage buildings bursting with history, lush green countryside to gastronomic dining experiences, these road trips throughout Europe are sure to give your loved on everything they could hope for in your time away together.
Driving through Andalusia
Heading from Seville or Málaga to Ronda, you can truly capture the beauty and romance that Spain has to offer. While culturally rich Málaga and its 'mile of art' offers its visitors a chance to get cultural, Seville, with its depth and personality, brings history together with the modern world.
Drive on to Córboba, about an hour and half away, where you will revel in the fine sights of Islamic architecture at the Mezquita, followed by Granada further along your journey. Two or three days are well spent here, as you take in the myths and legends that surround the strangely confusing city. The Alhambra and Capilla Real are well worth visiting during the day, to follow up with a romantic evening of food and drink at one of the many wonderful tapas bars and bistros.
From here, you can either head on a delightful detour to whitewashed villages of the Alpujarras in the mountains, or straight on to Ronda, one of the oldest towns in Spain and a popular choice amongst the finest romantics of history.
From Lisbon to Viana do Castelo, Portugal
Portugal is bursting with spectacular scenery, a bright way of life within the quaint villages, delicious food and wine just waiting to be devoured, and plenty of picturesque places to take a romantic stroll.
Within your starting point, Lisbon, you can expect to discover cobbled pathways, historic architecture and ruins paired with traditional terraced buildings. Be sure to treat your other half to some traditional Portuguese cuisine whilst in Lisbon, be it from the extensive fresh seafood selections or the sumptuous Alentejan steaks. Don't leave Lisbon without visiting the Santa Justa Elevator for fantastic views of the city from above, before heading to the São Jorge Castle on the hilltop at sunset, for views you will both fall in love with.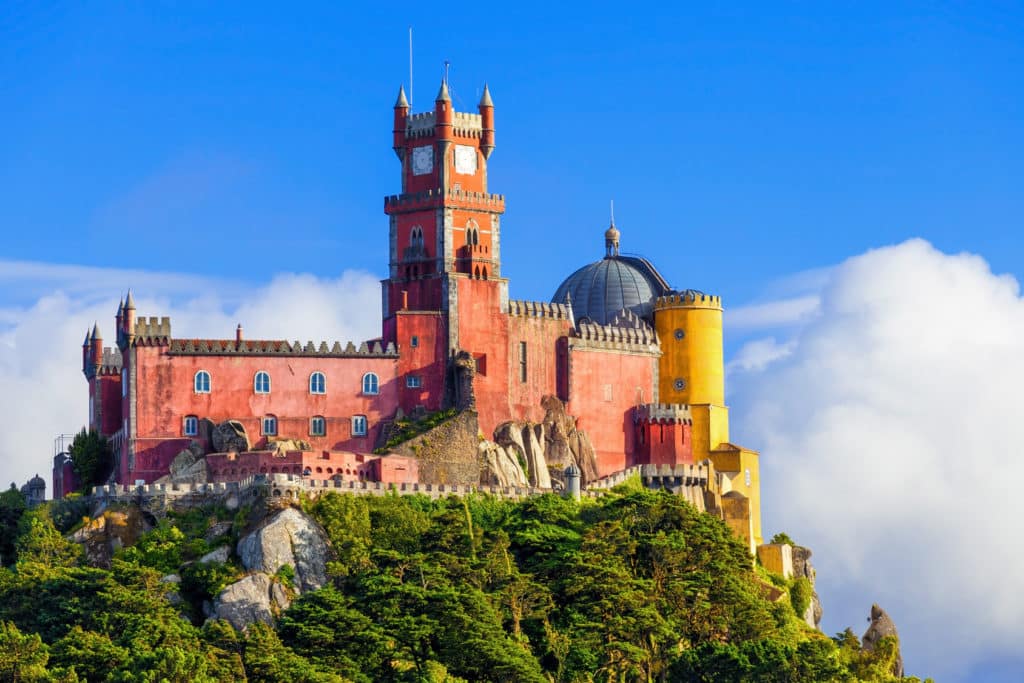 You can expect beautiful beach views along throughout your Portuguese road trip, creating that beautiful backdrop for the romantic trip you were hoping for. Visit Sintra along the way, a magical place with plenty of natural landscape and a UNESCO World Heritage Site.
On to Nazaré for a relaxing couple of days, sunbathing by the sea, followed by a short drive to visit Figueira da Foz. There's plenty of nightlife here so if you haven't already enjoyed a dance or two in Portugal, here's your chance to get into the rhythm. End your night with a moonlight stroll along the Atlantic boardwalk and listen to the waves rushing by.
Try to fit in at least a couple of days in Aveiro along your journey. A gorgeous little town that is often compared to Venice, thanks to its map of canals, along which brightly coloured gondola boats mosey along – why not take a romantic trip down the canal on one? Take in some of the beautiful sites on a cycling trip along the lanes together and finish the day with one of the many delicious fish dishes on offer in town.
Your trip moves on to Oporto, the land of wine and a UNESCO World Heritage spot since 1996. A trip to the old port town isn't complete without visiting the Cais de Gaia for lovely views of the town, or the extravagant Sao Francisco Church, steeped in gold and wooden carvings. Livraria Lello & Irmão is a stunning bookstore well-known for its neo-gothic appearance and definitely worth a visit.
Your road trip end in Viana do Castelo, a magical medieval city with stunning beaches on its doorstep. You will enjoy strolling through the town's curving narrow lanes and admiring the buildings paired with them. Spend at least a few days to enjoy not only the town itself, but the beaches too. You could even take a day trip to Serra d'Arga, a mountain with stunning views closeby.
Romance over dinner from Dijon to Paris, France
If your love of food is as strong as your love for your partner, consider a trip to five of France's gastronomic glories, 290 miles through the Burgundy and Champagne regions.
Begin in Dijon, where the food and wine is plenty and the streets are perfect for strolling hand in hand. The Renaissance era is very prominent throughout the city, as well as some medieval architecture. Visit one of the country's most excellents museums, Musée des Beaux-Arts, or alternatively, head to the Moutarde Maille, to peruse classic French produce.
On to Troyes, a beautifully half-timbered town that's full of life. Troyes is famed for it manufacturing of knitwear, handy for if you choose to take a trip in winter. After a day or two well spent here, continue your trip to Châlons-en-Champagne. This tiny part of France isn't the most popular with tourists, but it's worth spending a day here, soaking in the history of France through its buildings, or even enjoy a day of calming relaxation in one of the city's parks.
Your trip continues across stunning French countryside, to Reims, a visit incomplete without seeing the breathtaking Gothic cathedral. The town itself is bursting with quaint art-deco cafes and champagne cellars. It would be rude not to indulge in a few bubbles whilst in its birthplace, the Champagne region.
Your final stop brings you to Paris, possible the world capital of romance, and what a perfect way to end your romantic road trip. Spend a few days here taking in the sights, including some of the capital's most famous landmarks, the Eiffel Tower, the Arc de Triomphe and Notre Dame, to name a few. Treat your loved one to something special rom Passage du Cerf, or devour delicious pastries at dainty patisseries.