The Road to Mandalay is a luxury river cruiser in Myanmar, formally known as Burma. She's been cruising up and down the Ayeyarwady river nearly 2 decades offer a unique way to experience the sights and sounds of this interesting and recently rejuvenated country. Orient Express have operated this luxury cruise since 1994 and one big part of the journey is the excursions, taking you off the boat and in to the surrounding villages and landscapes of Myanmar.
Markets and workshops
We had a number of excursions to interesting places including a local market, selling everything you could ever need and then some. Tightly packed alleyways lead you ever deeper in to the labyrinth of stalls where locals haggle for the best price. There were lanes for fruit and fish, for hardware tools, clothing, even repair shops for your broken electrical items and watches. It was a busy and bustling place to spend a while, the intensity of the buyers and sellers created a real buzz that was a culture shock to walk out of once you find an exit.
We also visited a lacquerware workshop, something the people of Myanmar are very proud of. We were given a private guided tour around the outdoor factory where skilled workers created each step of this painstaking and highly detailed process. Getting up close to watch them create intricate repeated patterns around bowls, trays and all manner of furniture. It's an impressive process and one that the staff seemed very proud of. There's also a well stocked shop for tourists to browse and get a some authentic Burmese lacquerware sent home.
Local villages
I especially enjoyed the very interesting tour of a local village not far from the Ayeyarwady river. Locals were so open and sincere, happy to chat with us and welcome us in to our homes. We met families with small children, grandmothers smoking traditional Myanmar cigars called "Cheerot", mischievous kids climbing trees and women collecting water from the local well. It really was a hive of activity and a wonderful cultural experience.
Bagan temple tour
The highlight of our excursion experiences was without a doubt Bagan. Even if you don't know the name you've probably seen the pictures. It's a land of thousands of Buddhist temples, stupas and pagodas. Without a doubt the greatest reason to visit Myanmar. We left the comfort of our beautiful ship and boarded a comfortable bus that took us on a tour of Bagan's most beautiful locations. We first stopped at the Ananda Pagoda, containing 4 huge full standing Buddha images, ingeniously lit by sun light through the design of the building, they glow with gold leaf and are a very breathtaking sight. The pagoda also contains an impressive 554 small depictions of Buddha throughout his life, all nestled in their own niche along each corridor.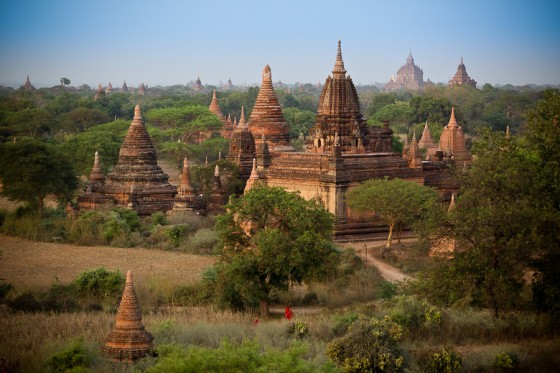 Mount Popa
There are temples everywhere in the mostly flat Bagan region of Myanmar but there is the occasional hill or large rock jutting from the landscape, the perfect place to build another temple! One such place is Mount Popa, like a scene from Lord of the Rings this giant rock has a brightly painted temple at its summit, with 777 steps to climb to get to the top your efforts are rewarded with a great view and an impressive set of rooms and statues. The temple was built long before the stair were added and no doubt long before the large number of monkeys arrived too. They're mostly harmless and like to sit around the steps, hoping people will drop food for them or if they're feeling opportunistic, grab a can of drink from your hands. There's also the Mount Popa Resort hotel just 10 minutes away which is slightly higher and offers a great view of this mini mountain. Our bus drove us to this vantage point and lunch was included with our tour. A great way to enjoy some food and the view all at the same time.
Sunset at Shwesandaw Paya
Sunset over Bagan is a very special experience and definitely not to be missed. We were driven to the Shwesandaw Paya where you are allowed to climb the very steep steps to 5 levels, all offering beautiful views of the surroundings. It almost appears as though the pointed roofs of the stupas, pagodas and temples outnumber the trees and from level 3 or 4 you get a stunning view as the sun slowly sets. Myanmar often has a very hazy sky so the sun turns a deep red long before it sets. While the side the sun is setting on is impressive I found the opposite side where it lit up the landscape with orange and red tints was much more colourful. It's an iconic image of Myanmar and one I highly recommend experiencing.
Entertainment on the Road To Mandalay
After a very enjoyable days sightseeing we head back to the Road to Mandalay and were always greeted by the smiling staff with cold wet towels and occasionally a glass of champagne too. If only all tours ended this way!
The cultural experience continues on the ship, our last evening featured a roof top cocktail party with a traditional "Elephant Dance". Something I'd never seen before. A cross between a pantomime horse and a chinese dragon dance. The large 2 man elephant costume is heavy and adorned with thousands of sequins. Not only do they dance but climb atop a spinning platform and rear up on two legs! Quite a sight!
It was a delight to experience the sights, sounds and smells of local life and return to the comfort, sophistication and service of the ship.
More information
A big thank you to Orient Express and the staff on board the Road to Mandalay river cruise ship. We had a wonderful experience and were able to see so much in such a short space of time.