The name "Orient Express" invokes images of grand scenic journeys, murder filled fictional novels and a throw-back to a by gone era when train travel was all the more civilized. Aside from the famous Venice Simplon-Orient-Express service that now runs all over Europe, with it's famous journey from London to Venice, there is a simple way to sample the world's most luxurious train travel.
The British Pullman
We had the pleasure of riding on the British Pullman service from London Victoria station. It's a day out like no other. A return service to any number of cities across England with 5 star dining in both directions. Our destination was Oxford and during graduation too.
London Victoria Station
We arrived at 8:30am at Victoria Station and were greeted by the smiling staff at the VIP check-in lounge on Platform 2. There's a a special atmosphere all around as everyone is there to celebrate something. Weddings, birthdays, retirements and the occasional divorce party we're told! The smell of burning coal in the air from the beautifully polished "Clan Line", a Merchant Navy Class steam train, surrounded by eager passengers after a quick photo next to this magnificent engine from a bygone era.
The British Pullman carriages
This British Pullman is more than just a steam train. It's also the 10 perfectly preserved carriages Vera, Cygnus, Gwen, Ione, Lucille, Ibis, Perseus, Phoenix, Zen and our carriage for the day, Minerva, built in 1927. The well dressed and well groomed steward, Alan, greeted us at the entrance and showed us to our seats. When you step in to the carriage it feels as though you've been transported (no pun intended) back to a "golden age" of travel,  with opulent interior and a relaxing atmosphere. Everything around you is perfect, from the chairs and curtains to the Orient Express cutlery and crystal champagne flutes. With a freshly poured Bellini in hand we waved to people on the platforms and houses as we left Victoria Station, on our scenic journey to Oxford.
Our steam train to Oxford
The journey was a leisurely paced affair with a delicious brunch of pastries, fruit salads and breads to occupy us. It's not often in England you're glad that a train is going so slowly. We were more than happy to spend our time enjoying the food and freshly made Bellinis, chat to the friendly staff and explore the beautiful carriages and their interior. We enjoyed waving to people that seemed to appear from no where to catch a gimps of our beautiful train puffing it's way to Oxford. It's quite a surreal view seeing people out the window all looking back at you!
The 3 hours journey to Oxford seems to be over all too soon but a fun packed day of visiting the colleges of Oxford awaited us. We alighted the train and joined our exclusive tour around the city. Spending a wonderful few hours visiting colleges, cafes and pubs as well as a few parks. We saw Oxford at it's finest including a host of students in graduation costume, complete with hats ready to be thrown in to the air.
We arrived back at Oxford station to watch our beautiful train pull in to the platform. It's a sight the railways really lack these days, such an elegant mode of transportation compared to the boring metal boxes we travel in today. The friendly stewards of our carriage Dimitri and Alan welcomed us back on board with a glass of Champagne. The way we should all be greeted back on board a train!
The journey back to London is a chance to relax, meet your fellow passengers and enjoy an absolutely divine 3 course meal created right on board the train by the award winning chef, John Kohout. The return journey seemed even more scenic as the sun set over rolling English countryside and village Cricket matches.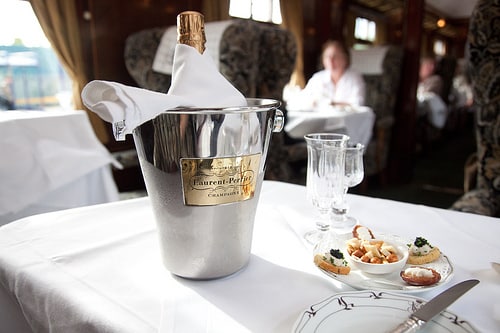 The best day trip in England
It was without doubt the perfect day trip. Our beautiful steam pulled palace on wheels was definitely the best way to visit such an historical city as Oxford. We really enjoyed every moment of our Orient Express British Pullman day trip experience. You feel looked after and expertly waited upon throughout the journeys and part of something very special. The most luxurious and stylish travel experience in the country.
Many thanks to the staff that made us feel so welcome, especially Jeff Monk, Alan Dowling, Dimitri Yushchuk and head Chef John Kuhout.
Information on the Orient Express
More photos from our Orient Express trip