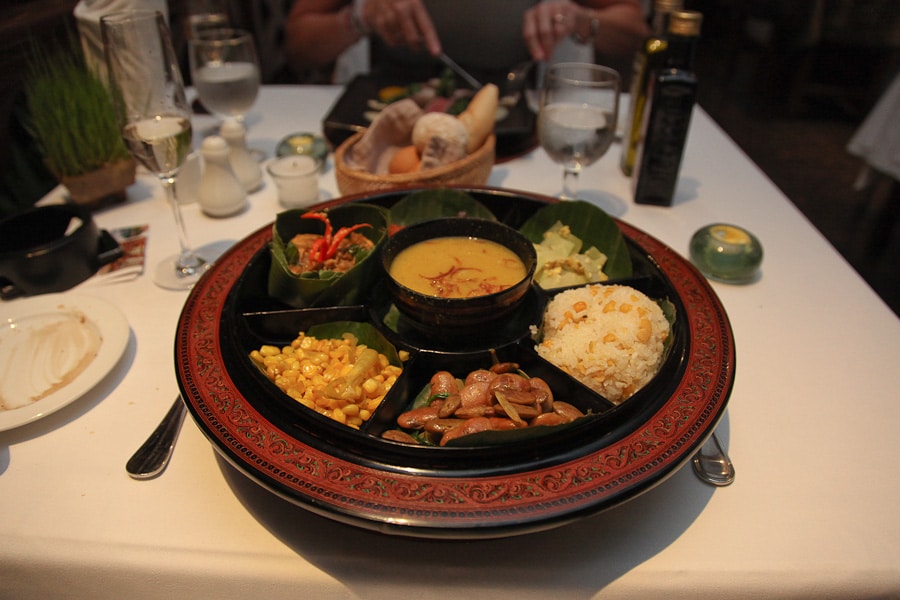 An evening at the Governor's Residence
Would you turn down an invitation to the Governor's Residence in Burma?
Would you turn down an invitation to dine at "The Governor's Residence?". During the British rule of Burma, now Myanmar, Generals such as Sir Reginald Dorman-Smith and Hubert Rance resided in this gorgeous 1920s teak mansion.
After years of neglect the building is now restored to its former glory and more besides. Now the home of the Orient Express hotel called the Governor's Residence. A stunning display of what a hotel can be, given the right care and attention to detail that Orient Express have become synonymous with. In the embassy quarter of Yangon, formally Rangoon, you are first greeted with a small but perfect drive way, adorned with huge Burmese wooden Umbrellas lit from below and expelling a warm red glow from their material. Smiling staff welcome you and a long walk way leads you through the front lawn, with more large and lit umbrellas, over a pond to your right and a swimming pool to the left. The head chef came to greet us Iain Murry, who had previously worked as a chef on the Orient Express train in Scotland, the Royal Scotsman.
A tour of the hotel
Before dinner we were given a tour of the premises. Just 45 rooms and 3 suites in its grounds keeps this hotel quiet and well organised. Beautiful garden paths lead you to a number of buildings with rooms on 2 floors. All rooms are actually smaller suites and possess the same level of quality as the original Governor's residence. A large and firm bed, ample room space for a sofa near the window, wardrobe space and a large bathroom with separate shower and bath. Having previously visited the Residence D'Angkor in Siem Reap it was great to see the Orient Express trademark styling with dark woods and well designed lighting, making the rooms glow and exude cosiness.
Back to the lobby area where there is a souvenir shop, while most hotels have these this one is typical Orient Express quality with locally crafted ornaments and traditional symbols of Myanmar. In fact from the second I walked I saw a number of objects I instantly fell in love with. Less souvenirs, more works of art, definitely worth a visit as you'll be lucky to find another shop in Yangon that has quite this variety and quality.
Dinner fit for a Governor
The sweet aroma of food from dining area soon had us salivating and we were seated along the veranda of the original Governor's Residence. There are also tables and chairs out on the romantically lit lawn, something the hotel does every dry season when the weather is consistently dry in the evenings. The menu was varied and, this being an Orient Express hotel, I was sure to be amazed by whatever we ordered. With this in mind I decided to go for something new and different. It's always great to try local dishes and the menu offer a "Myanmar Discovery" set meal. Deborah ordered the Butterfish to start, New Zealand Lamb cutlet, Creme Brûlée for dessert. A class of Prosecco each was a fine way to start the evening's meal. Attentive staff checked we were happy with each course and kept us lubricated with Argentinian red wine and mineral waters.
My main course was presented in a large round bowl, steaming away and separated in to compartments within. A chance to sample a number of local dishes at once including fried and steamed vegetables, curry and large beans. It was delicious and cooked to perfection, a great way to be introduced to new dishes. The curry was particularly tasty with a distinctive Myanmar flavour. I've enjoyed a number of curry dishes around South East Asia in recent months so it's always exciting to find something new and tasty.
Theatrical surroundings
The architecture, lighting and atmosphere of the Governor's Residence seem to work effortlessly together in creating what feels like a classic theatre stage production. As you gaze over the ponds and walkways, trees and verandas, you get a sense of majesty and importance. It's quite a fitting atmosphere for such a building and again a real trademark of Orient Express.
We had a lovely evening at the Governor's Residence and enjoyed our tour of it's pretty gardens and rooms. It's a world away from the busy central hotels in Yangon and I'm happy to see it's yet another beautifully styled Orient Express Hotel. Our thanks to Orient Express for their hospitality.
More information