Throwing a Bachelorette party? Or just want a little getaway over the weekend with you BFFs? California's Napa Valley is an unbeatable destination for either occasion. America's most famous wine region is one of those places where you'll never get bored! Relax and enjoy some of the famous Napa Valley wine tours, pamper your taste buds with delicious local cuisine, or embark on a road trip adventure through some of the most beautiful landscapes in the world. Doing all these things with your best girlfriends can't be beat! Here's our top five things to do on your Napa Valley girlfriends' getaway.
1. Napa Valley Wine Tours
If you're looking at Napa Valley, then there's a very high chance you're interested because of the world-class wineries. And who could blame you? This region's rich winemaking history dates all the way back to early 19th century. As of today, you can find more than 400 wineries that specialize in all sorts of wines, from Chardonnay to Merlot to Cabernet Sauvignon. Most of the wineries are still family-owned and offer an absolutely unique and hearty experience. From cool cellars to sunny terraces, each of them has its own character and a story to tell. Sit down with your besties and enjoy tasting some of the best wines in the world. There's no better place to do it!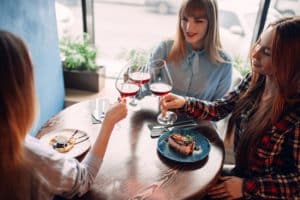 2. Hot Mud Baths Relaxation
Napa Valley boasts one of the most fertile and rich soils in the country. Aside from the vineyards, the region also holds some first-class mud baths. Can you imagine a better way to unwind after the day well-spent on one of the Napa Valley wine tours? Spas in the area offer everything from purifying ritual scrub to a hot stone massage. And of course there's a hot bath in a tub full of healing mud, which is a mixture of rich volcanic ashes and pristine mineral water from local springs. This therapeutic experience is especially enjoyable when you share it with your girlfriends. While relaxing in the spa, you'll finally have enough time for girlie chat you've missed so much!
3. Hot Air Balloon Ride
If you love how Napa Valley looks from the ground, just wait until you see it from above! Gently rolling hills covered with greenery and of course lots of vineyards are equally beautiful throughout the whole year. You'll probably get the most out of this experience in the fall when the leaves change color, but it's breathtaking all year round. There are numerous agencies that provide balloon rides, some that serve large groups while others will be happy to offer a private and intimate experience for just you and your friends. And how about enjoying a tasty brunch in the heights?
4. Culinary experience at the famous French Laundry
Famous Anthony Bourdain once dubbed Napa Valley's French Laundry "the world's best restaurant". Coming from the guy who've seen them all, there's certainly something to this it! After all, three Michelin stars only underline his bold statement. Offering meals for hundreds of dollars, this probably isn't the place you'd go for a quick lunch break. But if you're in the midst of a once-in-a-lifetime-trip, you should definitely consider ticking this paramount of all culinary experiences off your bucket list. Just make sure to book your table well in advance – this place is always booked out!
5. Castello di Amorosa experience
Not done with Napa Valley wine tours? This one is really something special. Although construction of the incredible Castello di Amorosa only began in 1995, it's a perfect architectonic copy of European medieval castles. Dario Sattui, founder of this magical place, spent more than $40 million to recreate what he believed was the best possible environment for the wonder of winemaking. Although the building is relatively new, it hosts numerous artifacts of historical value, such as the late Renaissance iron maiden and other torture devices, 400-year-old wine press imported all the way from Italy, and many others. Enjoy your glass of wine like royalties!