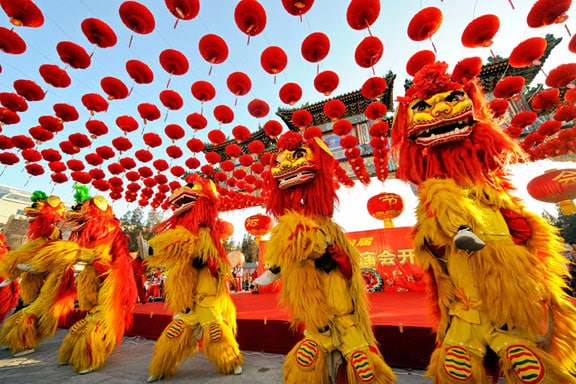 Celebrate the Lunar New Year in Vietnam
The Tet Nguyen Dan festival is full of colour, light and excitement. Perfect for all the family.
Vietnam can be pretty overwhelming if you're going there for the first time. For a relatively small country with a sinuous S-shape it packs a hell of a lot into its limited territory, from great beaches and dense tropical forests to soaring mountains and even an area of true desert. There are numerous exotic ruins and colourful pagodas littered about the country, and the bustling urban life in Saigon down south contrasts charmingly with the stately imperial and colonial elegance of Hanoi in the north. If you come here in February there's a major festival up and running, and the weather is beautifully dry and fresh.
New Year Tet Nguyen Dan festival
Across Vietnam, starting on 19th February and lasting for two raucous days, the Vietnamese celebrate the start of the Lunar New Year with the Tet Nguyen Dan festival. It's the most important festival of the national calendar and for the first three days everyone's on holiday. It's actually fairly low-key except on New Year's Eve, which makes up for it in noise and partying. Lunar festivals are all about noisily saying farewell to the old year and ushering in the new one with quiet respect, as befits a welcome and honoured guest upon who's goodwill you're going to have to rely for the next twelve months, whether you like it or not.
Offerings are prepared in every home a week prior to the main celebrations, for the spirits of the hearth who will report to the heavenly Jade Emperor and effectively determine the family's fortunes for the coming year. A New Year's tree or cay neu is also set up in every home to keep the evil spirits away, and on New Year's Day itself everyone goes to great pains to show respect and remain calm as the next year is quietly ushered in.
A slice of Vietnamese history at Hoi An
As well as being a very attractive fishing village, Hoi An is an important trading port that effectively connected Europe and Asia in the 17th century and has many imposing old merchants' houses as well as French colonial architecture and elegant canals. Old lanterns light up the riverside in the evenings, and Hoi An is a great place to stop off during a tour of Vietnam and enjoy a fresh fish supper at one of its many restaurants.
Hanoi for splendid monuments
Vietnam's capital, Hanoi, has a huge range of cultural attractions and is less hectic than its opposite number in the south, Saigon. Its stately French colonial mansions, wide boulevards and specious parks are perfect for strolling around, and in the Old Quarter especially there's a concentration of attractive and colourful Buddhist temples as well as the old Governor's mansion and the famous One Pillar Pagoda. Hanoi is also famous for its massive population of motorbikes too with over 1.7 million bikes. Traffic lights are useless here and every crossing is a walk in to the unknown. Don't worry you're quite safe as nobody moves that fast but its a whole new experience. Bikes rule the roads here so traffic accidents are fairly low here.
The iconic beauty of Ha Long Bay
Ha Long Bay in the north of the country is justly celebrated for its outstanding beauty. There are over 1600 limestone islands jutting out of the water here and the whole area has been a UNESCO World Heritage Site since 1994. There are several floating farms and villages to explore on boat tours, and a dynamic nightlife in Cat Ba island's many hotels, restaurants and bars. While the area is very touristy its size and unusual landscape are never too over-run. Junk boat tours lasting 2 or 3 days are common here and they are a great way to meet fellow travellers and experience some of Vietnam's true beauty.