One of the pleasures of enjoying a holiday in the Alps is the chance to indulge in luxurious accommodation along the way. There are some truly spectacular chalets in this part of the world, and many would insist that enjoying this level of luxury completes the Alpine experience.
Of the many luxurious properties available, virtually all of them have certain indulgent features in common – in-chalet spas, state-of-the-art entertainment facilities, convenient access to the slopes and optional in-house staff to take care of everything from catering to chauffeuring. But there are properties that certainly go above and beyond what's expected in the Alpine luxury sector.
With that in mind, we're going to take a closer look (in no particular order) at five specific Alpine luxury chalets that are absolutely breath-taking in every way.
The Lodge – Verbier, Switzerland
Sleeps 18
Owned by Sir Richard Branson, founder of the Virgin Group, this humbly named lodge is anything but humble. Indeed, it has all the luxury trappings you'd expect from the billionaire magnate who owns it.
The Lodge occupies five floors comprising two master suites and an additional bunk room for children. It can be hired exclusively, or by the room, depending on the size of your group. Additional facilities include the following:
Two Jacuzzis (one outdoors)
Swimming pool
Fitness centre
Spa
Also of interest, The Lodge features an open kitchen plan, which means you can watch the resident chefs at work.
This chalet is situated in an ideal location at Verbier, only a 250 metres from the main ski lifts. It also abuts one of the returning pistes, making it one of the most opulent and easily accessed properties on the slope.
Chalet Edelweiss – Courchevel, France
Sleeps 16
Courchevel 1850 is the highest (and most prestigious) of the five mountain villages that comprise the Courchevel resort complex. This English-owned chalet is one of the most impressive of the resort's offerings. It's truly a bastion of luxury in a community where an indulgent lifestyle is already the status quo.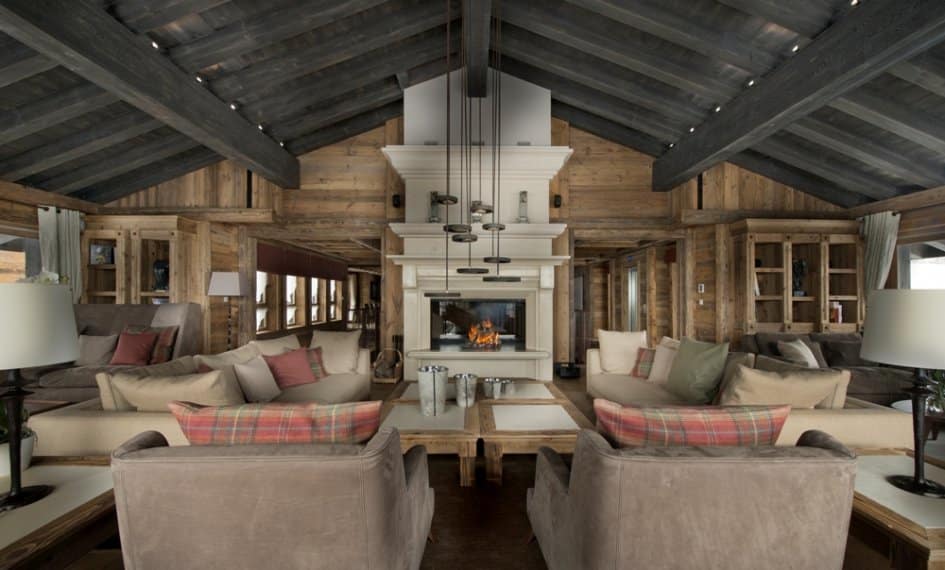 This seven-storey mansion was built from a mix of wood and timber, and it hinges on a central staircase that bores into the mountain much like a corkscrew, revealing treasures as it goes in the form of an opulent spa complex, swimming pools and a hammam.
Of course, Chalet Edelweiss features all of the other amenities and extras you would expect from properties available through agents. It features two 100sqm bedrooms, a private bar, an in-house cinema, a library and much more.
Le Ti – Verbier, Switzerland
Sleeps 9
Another of the ultra-luxury chalets found in Verbier, Le Ti is designed for slightly smaller groups and accommodates up to nine persons. It's located in the heart of the resort and is one of the most striking, standalone properties in the area.
The building was designed from authentic hardwoods, and the interiors adorned with luxurious fabrics and antiques. It makes an outstanding base from which families or small groups of friends can explore and enjoy Verbier.
Head to the ground floor for the entertainment centre, which is outfitted with a bar, flat-screen TV, pool table and plush furnishings. Here, you can lounge in leather chairs, enjoy one another's company or listen to music on the Creston entertainment system – which has actually been wired through the entire house.
The property also offers an outdoor hot tub, a spa, a south-facing balcony and four private en suite bedrooms – all spread over a luxurious 300 sqm of space. This is one of the few private properties available for hire in the area, making it an especially attractive find.
Zermatt Peak – Zermatt, Switzerland
Sleeps 10
Any list of opulent ski chalets is sure to feature at least one contender from Zermatt. This property is a shining jewel amongst an extravagant list of contenders, and even won title of 'Best Ski Chalet in Switzerland' in the 2013 World Ski Awards. It also has an official 5-star+ rating from both Swiss Tourism and the Swiss Hotel Association. This is certainly one of the finest chalets in the world, well worth the extravagance for those who can afford it.
Zermatt Peak is built into the edge of a cliff, and it boasts generous use of glass in the form of floor-to-ceiling, double-height windows that allow for spectacular stargazing in the evening. It even features polished brass binoculars intended precisely for this purpose.
The property was designed to blend with the surrounding scenery and mountainside. It was built from the finest natural materials and boasts warm colours, clean lines and spectacular workmanship. It's truly a stunning site to behold.
Other on-site facilities include:
3D cinema
Library
Gymnasium
Hot tub
Wine cellar
And of course, full staff – including a chef, waiter, chauffeur, masseuse and housekeeper – are available, if needed, to tend to your every beck and call.
Sirocco – Verbier, Switzerland
Sleeps 8
Built in 2014, this is a new and truly astonishing property in a Swiss mountain community already known for its opulent, over-the-top offerings. Guests want for nothing in this Alpine oasis, with four floors, four bedrooms and a generous outdoor space in which to enjoy the warmer spring and summer months.
On the first floor, you'll find floor-to-ceiling French windows that open onto a wraparound Veranda. This is an ideal post from which to enjoy the sunset while lounging in a fur-covered armchair. In the evening, you can also enjoy cocktails here in front of a crackling fire, with the glow of Verbier shining over the treetops in the background.
The spa is also found in the ground floor. This provides what many consider to be one of (if not the) most opulent and indulgent spa experiences in the Alps. It features a swimming pool and waterfall, with poolside loungers, a Jacuzzi, hammam and sauna. Separate treatment rooms are on-hand for massages.
Other amenities include an extensive wine cave and a cutting edge entertainment centre equipped with an Apple TV and state of the art sound system.