I've been asked recently what my relaxation techniques are for that perfect holiday by the beach. My response is always that I could go on endlessly about all the ways I like to relax and what works well. It seems a funny thing to need advice on but you'd be surprised how difficult it can be to really unwind, indulge and really feel at peace when you're on holiday. So I've decide to put together a quick-fire list of all the ways I find work for me and may well work for you too. Some involve spending a little extra, others involve a little preparation so pick from these what you will and do let me know if you have any great tips to share with my readers.
Go all inclusive
If all you're after is a relaxing beach holiday then you really can't go wrong with all-inclusive. It takes away so many little stresses. No need to worry about having enough money in the right currency, no need to find a spot on the beach if the hotel has its own private beach, drinks are just a click of the fingers away and there's usually a good few dining options in a decent sized resort to have you full unwound and chilled out. If relaxation is what you need it doesn't get much more relaxing.
Indulge your fun past-times
Don't let the nay-sayers tell you that you should leave your smartphone at home when you travel. My iPhone is my perfect travel companion. There's a multitude of uses to help chill me out when I'm by the pool or on the beach. Stock your phone up with al your favourite music, especially low tempo stuff.
Invest in a few fun games, preferably strategy ones that test your mental ability rather than physical dexterity. Get on the resort's wifi and chat to friends back home, read about subjects you've never had time to look up. Play some games of chance just for fun (Maybe play bingo online). All of these things make me feel relaxed and happy. Pack a charging brick to so you don't run out of smartphone power!
Free your music
I love bluetooth headphones but speakers are even better these days. I have the JBL Charge 2 plus which not only has amazing sound quality it can also charge my iPhone and has a battery capacity of 12 hours! I will say be sure to keep your neighbours happy so don't have it too loud but its easy to enjoy music at low level when the sound quality is this good and it means you don't have to wear headphones too so can have a conversation with your fellow holidaymakers. Definitely worth investing in as I find holidays demand good music playlists. The JBL Charge 2 plus is also splash proof so a great device to have outdoors.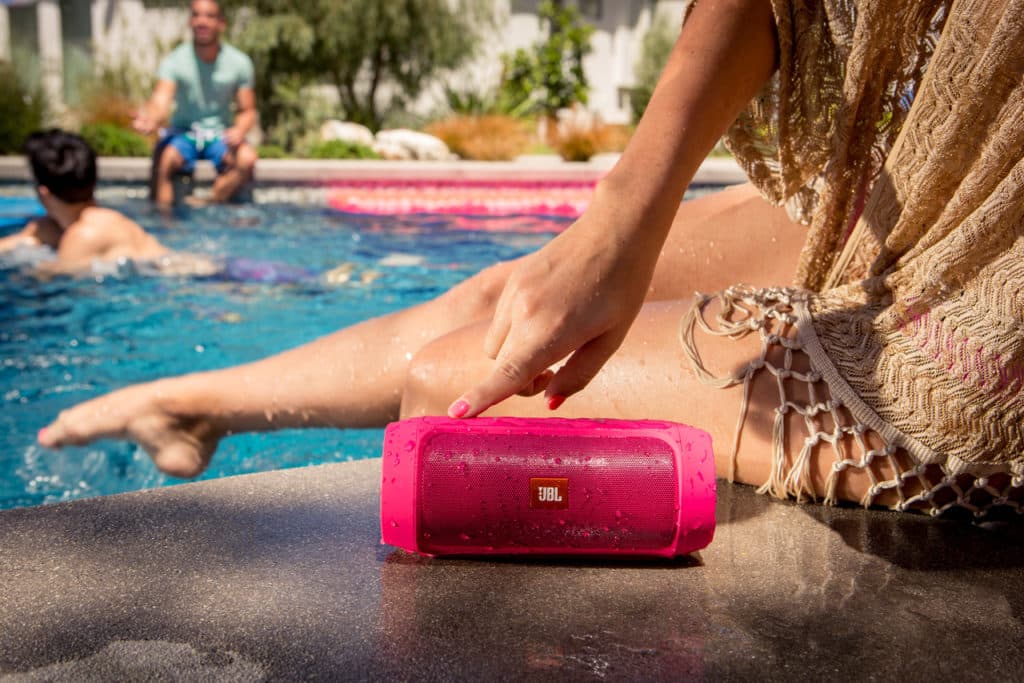 Eat light
Its so easy to go crazy when you're on holiday and eat way too much rich and heavy food. I'm always surprised how people don't think about how this will make them feel the next day. While you should of course enjoy yourself and eat well, take a moment think about how rich the food may be and how your body reacts to certain meals and ingredients. Its really no fun (and definitely not relaxing) if you feel bloated or uncomfortable, even worse if it repeats on you or gives you wind! I recommend eating well at breakfast with yogurts, fruit and other cold dishes, eat slowly and give your body time to wake up well. Have a light lunch, hot or cold, just don't go too crazy as you'll feel it all afternoon. At dinner time you can indulge but just remember it'll be the next day that you're paying the price for over ordering or eating that extra spicy dish!
Meditate
Most people haven't even tried this technique but I find it works particularly well when you're at the beach or by the pool. There's some great meditation albums out there and its amazing how just a few simple instructions from someone with a smooth silky voice can reduce your stress levels, your heart rate and your general outlook on life. Definitely worth a shot and so easy to do.
Find the perfect spot
This one always makes people laugh. I'm quite particular about my surroundings and often this comes out when I'm at a resort or on the beach. You maybe the same where you find there's one particular spot where everything feels right. Where things look better from that angle. It could be the boats bobbing on the water, the curve of the bay, even the best vantage point to people watch (we all like doing that right!?). So don't just turn up and sit at the first sun lounger you find, take a stroll and see where feels best. I swear this always makes me happy when I find just the right spot to make the most of where I am. It really works!
I'll be sharing more of my summer holiday tips so keep an eye on my site for more! Do share your tips too!