If there is that one most vibrant and sound town that you shouldn't miss to pay a visit while on a Rwanda Safari then Nyamirambo is one of them.
While Kigali and the rest of Africa's cities go a sleep, Nyamirambo neighbourhood on other hand remains lively. By nature, Rwandans are known to be the most reserved people compared to even their counterparts in Kenya.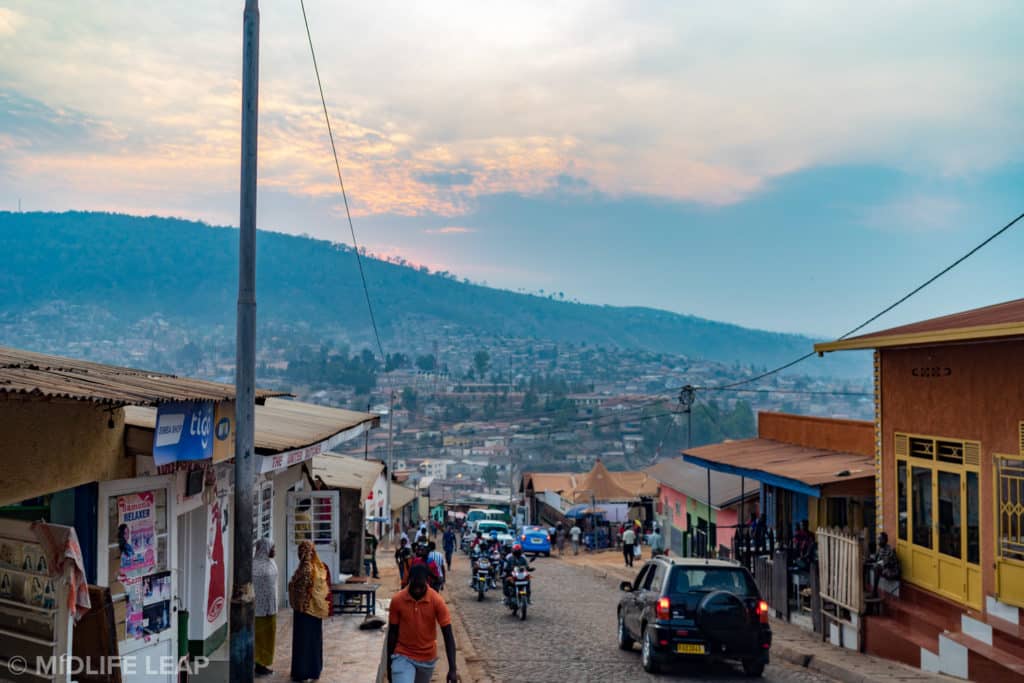 Usually, loud music is never allowed beyond 8:00pm and most bars get closed earlier than you may expect for a city something most people regard very 'boring.' For most Kigali city dwellers, this has been appreciated and it has become part of them unlike in the Nyamirambo neighbourhood that never goes to sleep. Nyamirambo features among the very few most beautiful neighbourhoods in Kigali and it straddles within the southwestern part of this remarkable city.
It is one of the 10 (ten) sectors which form the district of Nyarugenge and features mainly the Gasharu, Rugarama, Cyivugiza and Mumena areas. It is a renowned multi cultural sector with lively history that you won't find anywhere else in Rwanda.
It is a city within a city and features all kinds of city dwellers, historically known for Muslim and a home to the popular Gaddafi Mosque plus other beautiful mosques, markets, lots of creativity and several wonderful restaurants.
While on Rwanda safari, this is one of the best areas you need not to miss to explore for true insight into Kigali. It attracts most locals who come to stay or simply to have fun night out.
For recreational experiences while on Rwanda tour, Nyamirambo is that one place you should count a must to visit. There is a two floor cinema with a wide screen for your entertainment. Besides, don't miss to pay a visit to The Green Mosque also known as Masjid al Fatah-Rwanda's biggest and the oldest mosque that derived its name from its green and white minarets.
This remarkable mosque is a symbol of peace and historically popular as a safe paradise for most Rwandans at a time of the terrific genocide. Nyamirambo is believed to have escaped some of the worst atrocities of the 90s mainly as a result of its Muslim population.
Most of them set up homes and mosques to offer refuge to the Tutsis. However, due to their righteousness together with lack of faith in Catholic and Protestants leaders led huge conversion rates and most Muslim community in the Land of a Thousand Hills has even doubled from the time of the genocide.
There are also several local bars and restaurants which are lined up along the streets and you can have a taste of local dishes and fish at a pocket friendly price.
You can pay a visit to Tamu Tamu restaurant for best buffets and several Rwandan dishes plus snacks.
At the centre of this town, there is Nyamirambo Women's Centre (NWC), a group that was established around 2007 with only 18 members who joined hands with an aim of supporting one another, sharing matters concerning families, health, unemployment and education.
The group has kept on expanding to include a sewing cooperative and offers practical training and skills for the disadvantaged women. It is involved in tourism related activities as way for them to generate income and in most cases, locals are engaged in guiding clients and at the end of the day, they earn a living.
This community still believes in tradition and it is known to have resisted against modernisation and redevelopment. Various aspects in this area depict diversity which makes it unique and the NWC tour weaves a trail from the spiritual soul of the historic Green Mosque to Nyamirambo's creative hubs.
This group has however used tourism as a means to create employment opportunities and also create awareness among women and most of the women are today involved in a number of activities especially food preparation where you will have a hand in the cooking process with the locals after making purchase of all the fresh produce and ingredients at the nearby market, village tours and weaving workshops.
Usually, walking tours start with traditional snack, Kinyarwanda language lessons, introduction to the centre and its activities, and then you hit the streets of Nyamirambo with a guide. For those of you who love sports, you can pay a visit to Nyamirambo stadium or the giant Amahoro stadium in Kigali's Remera neighbourhood.
Where to stay while on safari in Nyamirambo
This town is approximately half an hour's drive from Kigali Airport and just adjacent to Kimihurura and Kiyovu. There are several accommodation options for you to spend a night at affordable price and the notable ones include Kigali View Hotel, Ten to Two Hotel.
These hotels are strategically located and offer breathtaking views of the surrounding areas. For those of you who may prefer luxury accommodation, there is Kigali Serena Hotel, Kigali Marriott Hotel just close to this town.
Getting to Nyamirambo
This remarkable town can easily be reached using various means of transportation the fact that there are several transportation links. It is about 21 kilometres from Kanombe and you can use a bus or matatu and other means.
In conclusion, Nyamirambo is incredibly one of the few most impressive cities that you should consider a must to explore while on safari in Rwanda. It features a lot more for you to explore right from culture, traditions to nightlife.