I have to confess I'm a bit of a train enthusiast! While you wont see me train-spotting at Paddington station any time soon I do love travelling by rail. Admittedly commuter trains are not my cup of tea but there are some fantastic luxury trains all over the world that attempt to bring back the hey-day of luxury travel with experiences quite unlike any other mode of transport. I've picked a few of my favourites you really should consider for your next luxury holiday.
Eastern & Oriental Express – Bangkok to Singapore
Asia is a fantastic and exotic place to visit but most people fly between destinations, missing out on the lush green landscapes and rural settings that define Asian life. There is a wonderful luxury train owned by Belmond (Formerly Orient Express) and runs from Bangkok to Singapore over 3 nights. It visits some iconic destinations in Thailand and Malaysia and features day excursions to temples, luxury hotels and the famous "Bridge over the river Kwai" in Kanchanburi too. The dining on this train is some of the best in the world with 5 star meals 4 times a day (includes high tea). The cabins are perfectly designed and beautifully decorated with your own private shower and toilet. Another highlight is a visit to Penang Island in Malaysia where you'll visit beautiful Buddhist temples and be whisked around town on rickshaws before cocktails on the islands most historic of luxury hotels, the Eastern and Oriental. The journey ends at the border with Malaysia and Singapore where I recommend spending a few days too. The journey is a relaxed affair with an observation lounge, a library to read a book or play mobile bingo and a bar that was my personal favourite when I took the train. A great place to chat to like minded passengers and enjoy a few cocktails too. Be sure pack your formal wear as dressing to impress is all part of the experience and casual attire is most definitely not appropriate for evening meals. Check out belmond.com/eastern-and-oriental-express for more information.
The Blue Train – Pretoria & Cape Town
In the 19th Century plans were made to link the great cities of Cape town and Cairo by train, traversing great distances across Africa, through mountain ranges and arid deserts. Sadly this vision was never fully realised but some of this grand plan did make it to fruition. South Africa has one of the world's most luxurious train journeys taking some of the world's most amazing landscapes too. The Blue Train offers a 5 star hotel experience on wheels and takes you between the great cities of Pretoria and Cape town, usually a round trip with a number of excursions  like a stop at Kimberly once the sight of the great diamond rush in South Africa. The journey takes around 27 hours, extended with by the day trips and gives you a glimpse of a bygone era of colonial rule and victorian luxury. The train is actually of 20th century origin, having been updated numerous times over the decades with its current decor from 1997. Never-the-less the attention to detail here is amazing and has quickly become one of the most iconic rail journeys in the world. Check out bluetrain.co.za for more information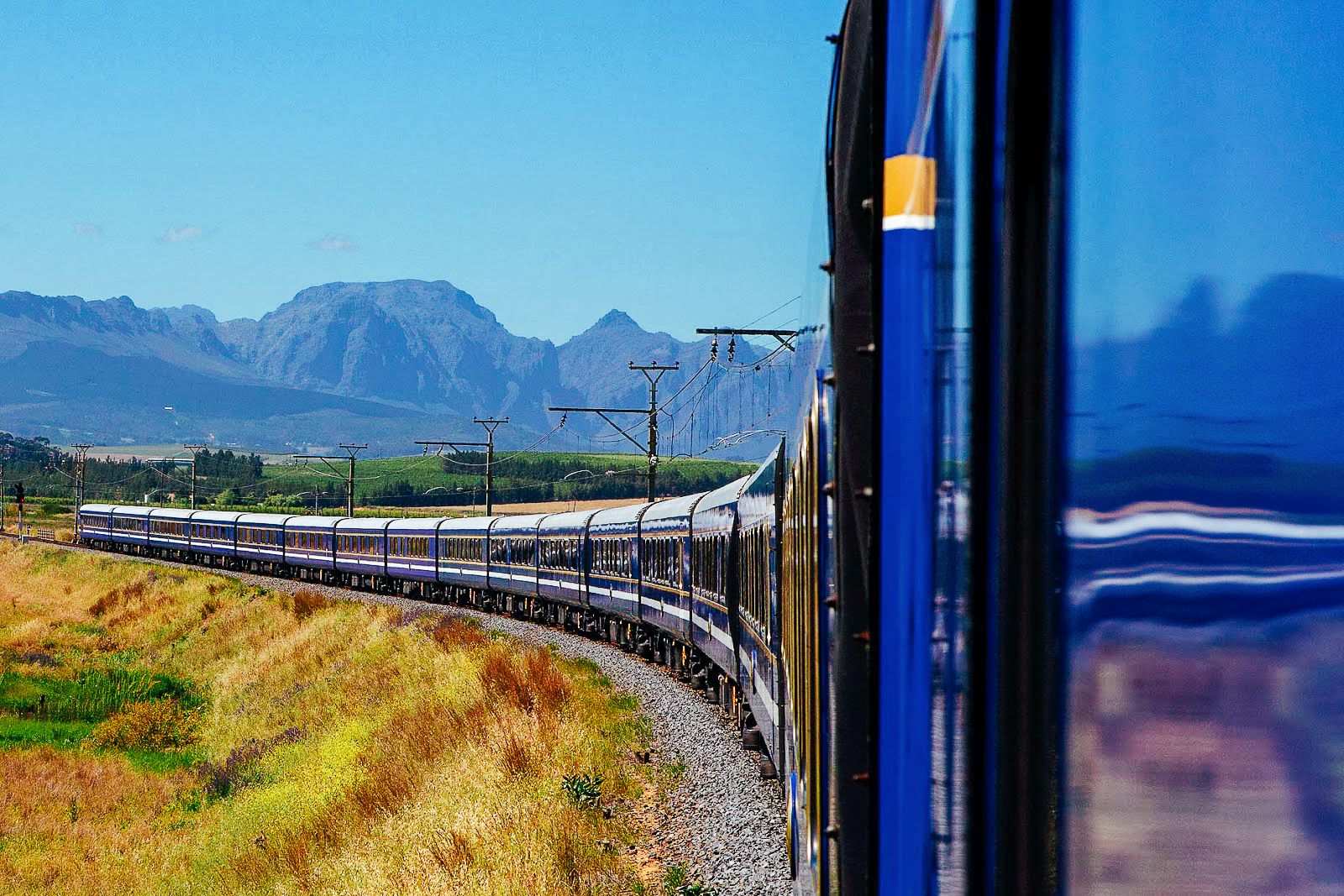 Maharajas' Express – Delhi, Agra and Jaipur
Routinely voted the most luxurious train journey in the world, its also one of the most expensive but when you climb aboard this "Palace on wheels" its easy to see why. 23 carriages cover 12 routes across India taking in some of the country's most exotic and iconic sights. What better way could there be to visit the Taj Mahal than by luxury train? A typical journey starts in Delhi where you board the train and enjoy 5 star dining before travelling overnight to Agra. A lavish luxury excursion to the Taj Mahal is followed by a champagne breakfast and exclusive tours of the area before returning to the train. The next day you visit the historic city of Jaipur where you'll get to visit a palace and see dancing shows laid on especially for you. You might even get to meet elephants while you're there! Go to the-maharajas.com for more information.
The best thing about luxury trains is you don't need to worry about a thing. Every meal, every excursion and even every border crossing is taken care of for you. It's the best way to see the world and feel completely pampered. Would could be better!