On a recent visit to Bangkok we had the chance to review the Chatrium Riverside Hotel and explore this 396 room luxury accommodation and its stunning city river views. We've always been curious as to how hotels of this size are managed, what makes them keep working like clockwork behind the scenes. We had the honour of meeting Andrew Brown, the Executive Chef of the Chatrium Riverside Hotel, to find out more about life as a hotel chef.
Hi Andrew. Firstly can you tell us how about yourself?
I'm originally English but lived in Australia for so long I've picked up the accent! I've worked for the Chatrium since June 2011. Just over 3 years in Thailand now. I also worked at the Eastern & Oriental Hotel in Penang from 2004 to 2006. Before that I was in China for 3 years. I love this part of the world. I've also worked in the Maldives for 3 years which is great for a holiday but when you're working your stuck on an island.
Can you tell us more about your new 'Wow' menu?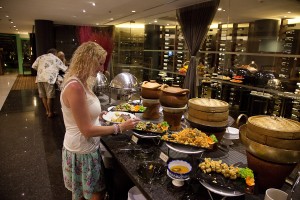 We introduced it a couple of months ago now. The idea was simple, everybody does buffets but we wanted to put an item on it that was real value for money.  Also not just adding an item but giving people a chance to try to compare styles, so we've got different types of prawns, the foie gras we have is french and hungarian. With the Lobsters we have Boston Lobster, Phuket Lobster, Rock Lobster. Even with the Wagyu beef, there are different grades like 3-4, 5-6 or a 9+. It really gives people a chance to find out what they like. We wanted to do something that not everybody else was doing at a price point that people find attractive.
How many covers do you usually do in a day?
I oversea all of the food at the Chatrium Riverside, both restaurants and functions. We do around 200 covers per night at weekends and around 120 – 130 during the week. Obviously it depends to a certain extent on occupancy, but not as much as it used to. We are getting a name for ourselves now because of the buffet. We used to do 20 – 30 covers on a nightly basis  and now it's over a hundred which is fantastic. We do get non-guests coming just for the buffet now. We are trying to put ourselves on the map.
Do you do mostly business events or weddings as well?
We do a lot of weddings especially on weekends. The majority are Chinese weddings as in Chinese style set menus although cocktails are also popular. Pretty much one every weekend now.
How many staff do you have at the Chatrium Riverside?
We have about 56 staff in the kitchen now. Guests probably think it's just a couple of chefs in a kitchen! It always amazes me, people don't understand what it actually takes to run a hotel kitchen, when you tell them they're always surprised. It's always amusing. We've got 2 kitchens one for the River Barge and one for the Silver Rose. I've got chef de cuisines below me who take care of various levels. I've got master chefs in each kitchen and they've got senior sous chef and a couple of sous chefs. Chinese kitchens are different in that they'll have "chopper 1", "chopper 2", "Wok 1", etc. Basically their job is either woking or chopping! I come in about 7:30 in the morning and usually finish around 8pm, later if we have a function I want to over see.
Did you develop the in room dining as well?
Yes we changed that in January and we'll change it again in a couple of months. It's linked with our A La Carte menu that we serve at the River Barge restaurant downstairs. Every 6 months or so we'll update. We'll look at what's popular.
So today is Tuesday which means Lamb buffet right?
That's right tonight we'll be doing a roast Lamb leg, there'll be cutlets and marinated sliced Lamb. We cook it outside on our 2.5 metre BBQ  and we'll also be doing braised Lamb Shanks too. It's all imported from Australia as they don't have lamb in Thailand. So lots of different cuts and ways of cooking it. Plus we have a whole other range of dishes as well!
What has your Thai experience been so far?
I worked in Pattaya before Bangkok at a huge themed resort. I always thought I didn't want to come to Bangkok because my experience was driving to Bangkok when we had meetings at head office. I must admit I do love living here now. Working at the Chatrium Riverside you're slightly away from it and can get around very quickly here with the boat. It's fantastic. It's a peaceful part of town and within 5 minutes you're at the main hub for the river which takes you all over the place. In 20 minutes you can be at Siam Square, without the hassle of driving!
Do you live nearby to the hotel?
I live in the number 2 tower at the Chatrium Residences next door actually which is great. We get people from the residences towers coming over to eat at our restaurant but we also do the in room menu there which we rotate every month too. There's a lot of teachers and businessmen there. They like coming out on a Friday night and going to our 36th floor, eating some tapas and enjoying the view!
Thanks Andrew
We'd like to thank Andrew Brown and his team for taking the time to show us around his kitchens at the Chatrium Riverside.