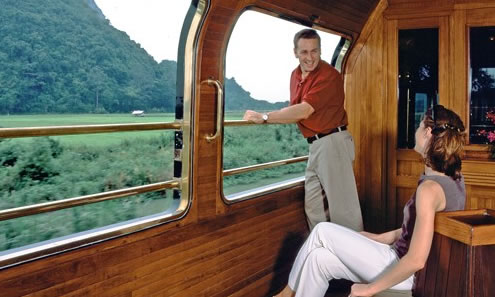 Eastern & Oriental Express review – Part 1
An epic luxury train journey from Bangkok, through Malaysia to Singapore.
I've always been an advocate of train travel, especially when in foreign countries. Carving through a country rather than just flying over it is always the best way to see it's landscapes and meet it's people. There are some truly classic rail journeys in the world and we were lucky enough to be invited on board one such journey. The Eastern & Oriental Express, run by Orient Express, goes from Bangkok in Thailand, through Malaysia and on to Singapore, or vice versa. This 5 star luxury train is a world away from the sleeper services that usually run this route. While other transportation is all about the destination, with Orient Express it's all about the journey.
Boarding the train
We arrived at Bangkok's Hua Lamphong Railways Station and checked in at the exclusive Orient Express check in lounge. There were plenty of sofas to sit, chat to other passengers and grab a complimentary drink. You could feel the excitement building as more guests arrived. An interesting mix of old and young, mostly couples with a few single travellers and groups, all eager to start our epic journey south. Our boarding time was 5:30 but was suddenly moved to 5:05 so we all walked together over to the platform where our magestic green and gold train waited for us. Smiling porters help us with our bags and showed us to our cabin. There are 2 Presidential cabins, 28 State cabins and 30 Pullman cabins. We had a beautiful Pullman cabin with wooden panels, tiled bathroom with shower and cleverly designed storage for our bags and clothes. Our new home for 3 nights.
The observation carriage
At the end of the train, just one carriage away from ours, is the observation carriage. A wonderful place to hang out and enjoy the scenery. Half of the carriage is an indoor lounge with a bar, comfortable seating and a constant supply of nibbles to quench any thought of hunger. The other half is a an outdoor area offering amazing panoramic views, rails to hold on to and seating in the centre to relax and enjoy the tropical heat. This was a popular place to reside and feel a part of the world around us. The service was also excellent, any hint of an empty glass and someone was soon asking you if you'd like another drink.
A leisurely pace
Life on board is relaxed and sociable. The train has low priority on the railways so stops are frequent to allow faster trains past. As this train is all about the journey the stops are a chance to move easily between carriages that can be good fun to walk through when the narrow gauge train is moving and rocking. The sight of the Eastern & Oriental Express is much like that of the Orient Express or British Pullman trains. People on platforms, in fields and back gardens all wave and smile as we go past, we enjoyed waving back from the observation carriage, it must be quite a sight to see well dressed passengers quaffing champagne on the back of a train!
An elegant evening
The main event of the Eastern & Oriental Express is definitely the evening dinner. 2 sittings allow all the passengers to dine in style at the 2 restaurant carriages on the train, Rosaline and Malaya both in the middle of the train. It's a chance to get dressed up, look your glamorous best and also meet fellow passengers. The carriages, much like the rest of the train, are beautiful surroundings with dim table lamps, gorgeous seats and table settings with everyone dressed to suit our opulent surroundings. With it being dark outside you really feel you're in your own little luxury world where the service is not only great but they've also mastered the art of serving delicately arranged food on a moving train! All the food is included in your ticket, with a choice between two main courses. the food is divine, easily the nicest meals I have ever eaten. Impressive for such a small kitchen in our palace on wheels.
Part 2
Read Part 2 of our epic Eastern & Oriental Express journey from Bangkok to Singapore.
Video guide to the Eastern & Oriental Express
Watch our short video with highlights from our Eastern & Oriental Express journey.